Certificates of Appreciation Awarded to Faculty Instructors, June 9, 2020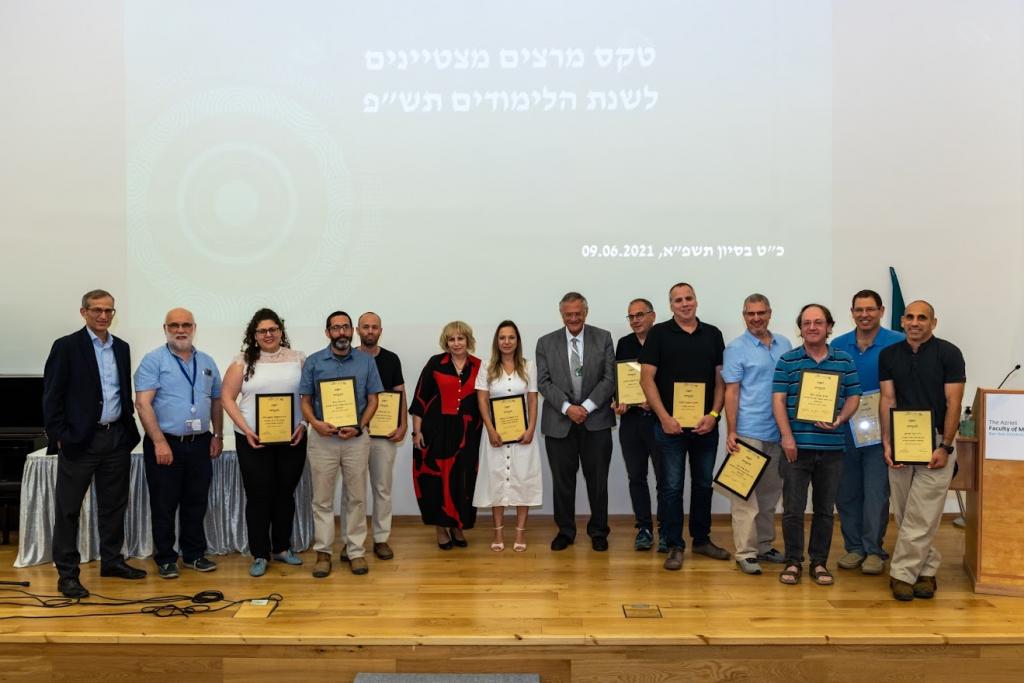 At the Azrieli Faculty of Medicine of Bar-Ilan University it is the season to say thanks.
After ceremonies of appreciation at the Ziv Medical Center, the Baruch Padeh Medical Center, the Galilee Medical Center, and Nazareth hospitals and Galilee Kupot Holim - on June 9, 2021 excellent teachers from the Azrieli Faculty were acknowledged in a ceremony held at the Faculty. Offering warm words were Prof. Karl Skorecki (Dean of the Azrieli Faculty), Prof. Eric Shinwell (Associate Dean, Medical Education), Dr. Meital Gal-Tanamy (Head of  the Advanced Degree Teaching Committee), and Dr. Nomy Dickman (Head of Unit, Evaluation and Advancement of Education). 
After a musical interlude by Gadi Altman, Prof. Skorecki as well as Prof. Chaim Putterman (Associate Dean, Research) and Prof. Eric Shinwell were invited to the podium for the awarding of certificates.
The following were awarded for excellence in teaching in the Graduate Degree program:
Prof. Amnon Harel
Prof. Itay Onn
Dr. Alon Barash
And the following for excellence in teaching pre-clinical (medical) courses:
Dr.  Jumanah Essa-Hadad
Dr. Meital Gal-Tanamy
Dr. Nir Qvit
Dr. Ron Piran
Dr. Miri Bentwich
Nadav Toledano
In addition, the following courses were noted:
Infections and Inflammations (Prof. Omry Koren, Prof. Daniel Glikman, Dr. Shai Bel)
Aging (Dr. Amitai Oberman, Dr. David Enshell-Seijffers)
Dr. Alon Barash spoke in the name of the award recipients.
Your hard work is appreciated.
Pictures can be seen here.
Last Updated Date : 10/06/2021