Certificates of Appreciation Awarded to Clinical Instructors, Baruch Padeh Medical Center in Poria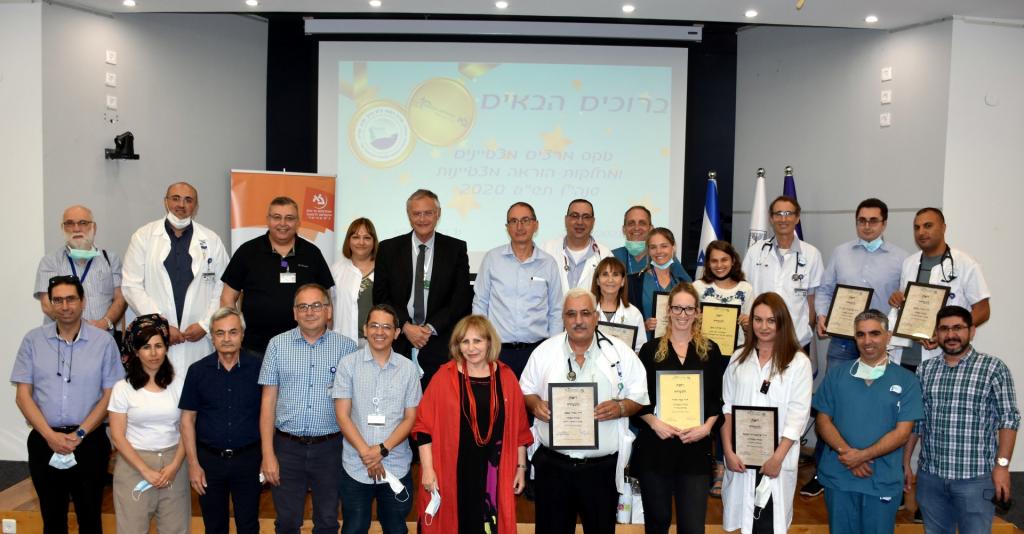 On May 20, 2021, a festive ceremony (in person!) was held at the Baruch Padeh Medical Center in Poria to personally thank the excellent clinical teachers who are training the next generation of physicians. This follows the ceremony held at the end of April to thank excellent teachers from another affiliate hospital, the Galilee Medical Center.
In addition to presenting certificates, the gathering commemorated Dr. Orna Nitzan z"l, head of the infectious diseases unit, who recently passed away prematurely in her forties. A masterful teacher herself who was warmly loved and appreciated by her students, Dr. Nitzan is survived by her husband and three children whom she raised with boundless dedication. Her daughter Avigail spoke in her memory.
The ceremony was hosted by Maya Tsaban, the hospital's spokeswoman, and from the Azrieli Faculty, speakers included Prof. Karl Skorecki, the Dean; Prof. Eric Shinwell, Associate Dean, Medical Education; Dr. Nomy Dickman, Head of Unit, Evaluation and Advancement of Education; and Dr. Nizar Horrany head of the stroke unit who represented the prize recipients.
We deeply appreciate their hard work.
(Hebrew article here.)
(Picture credit: Yigal Levy of Padeh-Poria spokesperson's office)
Last Updated Date : 24/05/2021