Diabetes Month: SPHERE Arranges Mobile Screening Van for BIU Ramat Gan Campus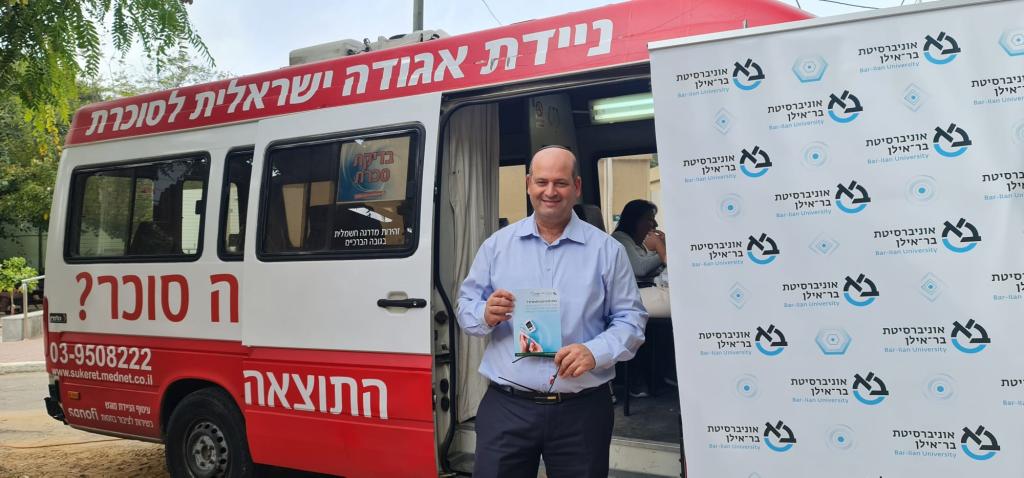 Bar-Ilan's Azrieli Faculty of Medicine and the The Russell Berrie Galilee Diabetes SPHERE initiated community testing for the early detection of diabetes in November – National Diabetes Awareness Month. On November 22, 2022 free diabetes screening tests were performed on the Ramat Gan campus.
Some 250 blood tests were performed at the mobile clinic which was situated at the center of the busy campus promenade, midday. Students, faculty, administration, and even just passers-by took advantage of the opportunity.
One faculty member who requested to remain anonymous said, "I was afraid to take the test, because I know I am pre-diabetic. But I now see that by cutting out sugar, reducing my carb intake, and exercising, something is working well. My results surprised me for the good!"
For more information on SPHERE, visit their Facebook page here.
Pictured above: Zohar Yinon, CEO of Bar-Ilan University, at the diabetes screening on campus.
Last Updated Date : 26/11/2022