Medical Cadets Present Their Final Research Projects at Galileum Conference
Last evening, March 18, 2021, the 7th annual Galileum conference presenting the final projects of high school student research in science and technology was held via Zoom and EventPlace. Participants included the medical cadet project, a prestigious three-year program for high school students in the Galilee that includes lectures, seminars, excursions, and ultimately, preparation of a final research paper under the supervision of an Azrieli Faculty of Medicine researcher. The highly regarded program counts towards the Bagrut matriculation for the students.
After introductory remarks by Ms. Ofri Peri Galin, the Galileum medical cadet research project coordinator; Ms. Carmit Shahar, director of Galileum; Prof. Chaim Putterman, Azrieli Associate Dean for Research and Director of the Research Institute at the Galilee Medical Center; Mr. Menachem Nadler, head of the division for gifted and outstanding children at the Ministry of Education; Ms. Nurit Tsur-Rabino, CEO of the Western Galilee Cluster; Mr. David Zigdon, CEO of MIGAL Galilee Research Institute; Prof. Reuven Yosef, national biology research project instructor; and Mr. Yoel Avni, the agriculture pedagogic supervisor, the students accompanied by their proud families and guests as well as dignitaries, dispersed to Zoom rooms to present their research. After the "defense" and a joint escape room activity, all participants reconvened to hear the names of the evening's winners (in Hebrew):
סופיה נסדקינה - מבואות עירון
מאיה מטאנס - מקיף א' מע'ר
איריס ניצן - אנה פראנק סאסא
רעות יצחק - אנה פראנק סאסא
איאן ק'בלאן - מקיף בית ג'ן
נוהא פארס - אורט דנציגר קרית שמונה
נועה פריסלץ - ליאו בק, חיפה
We are proud of all 40 young researchers, and look forward to reading about your future accomplishments and achievements in the future! As Prof. Putterman said, "I do not see this as a presentation of your final projects, but as a conference launching your future research!"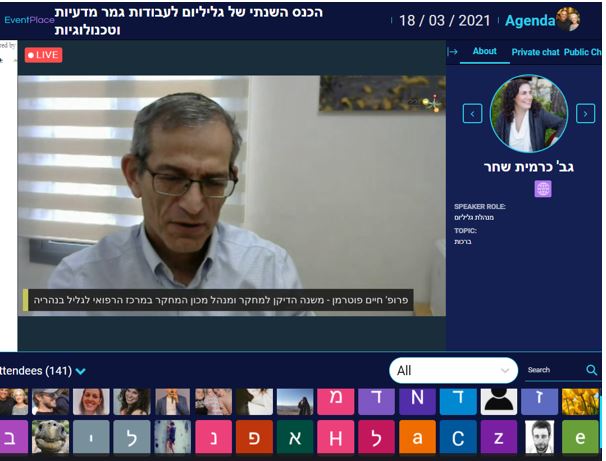 Last Updated Date : 21/03/2021