New Medical Cadet Cohort Ceremony Takes Place Via Zoom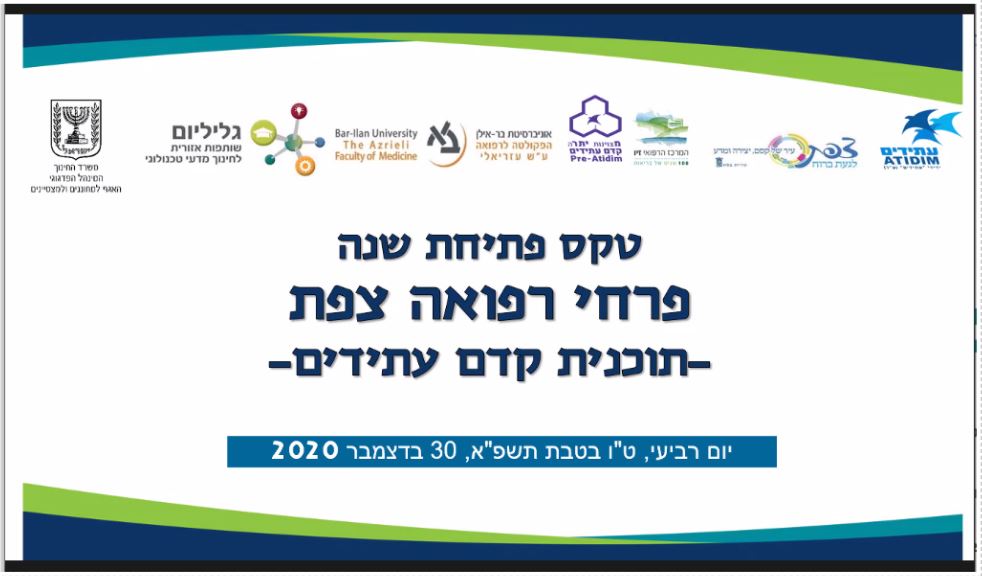 On the evening of December 30, 2020, some 70 students, parents, teachers, researchers, and dignitaries convened via Zoom to launch the fifth Medical Cadets program, made possible thanks to cooperation between the Azrieli Faculty of Medicine, the Ministry of Education, and the Eastern Galilee Municipality Cluster (represented by Galilium).
Thirty-eight highly precocious, serious and dedicated high school students from the Galilee were chosen for this most prestigious three-year program of lectures, seminars, excursions, and ultimately, preparation of a final research paper under the supervision of an Azrieli Faculty of Medicine researcher. The program counts towards the Bagrut matriculation and is highly regarded.
The Zoom launch opened with welcoming remarks from the Mayor of Safed, Mr. Shuki Ohana. Also sharing their blessings were Mr. Menachem Adler of the Ministry of Education, Ms. Carmit Shahar, Ms. Almog Meshal (coordinator), and Dr. Yiftah Barsheshet (program pedagogic director who greeted the participants in the name of the Dean, Prof. Karl Skorecki).
Dr. Barsheshet gave an intriguing brief presentation on Corona virus research being done at the Faculty (in particular, the research of Dr. Meital Gal Tanamy and Dr. Moshe Dessau), and a 12th grade student, Ms. Hadar Amarusi, shared her research with the attentive audience.
This year, as every year, we will be welcoming a heterogeneous group of students, from the following cities and towns:
Safed, Kiryat Shemona, Sajur, Hatzor HaGlilit, Maghar, Beit Jann, Ayelet Hashahar, Horfish, Pekiin
We wish the students success and look forward to reading their research papers.
Last Updated Date : 31/12/2020