Certificates of Appreciation Awarded to Faculty Instructors, June 7, 2020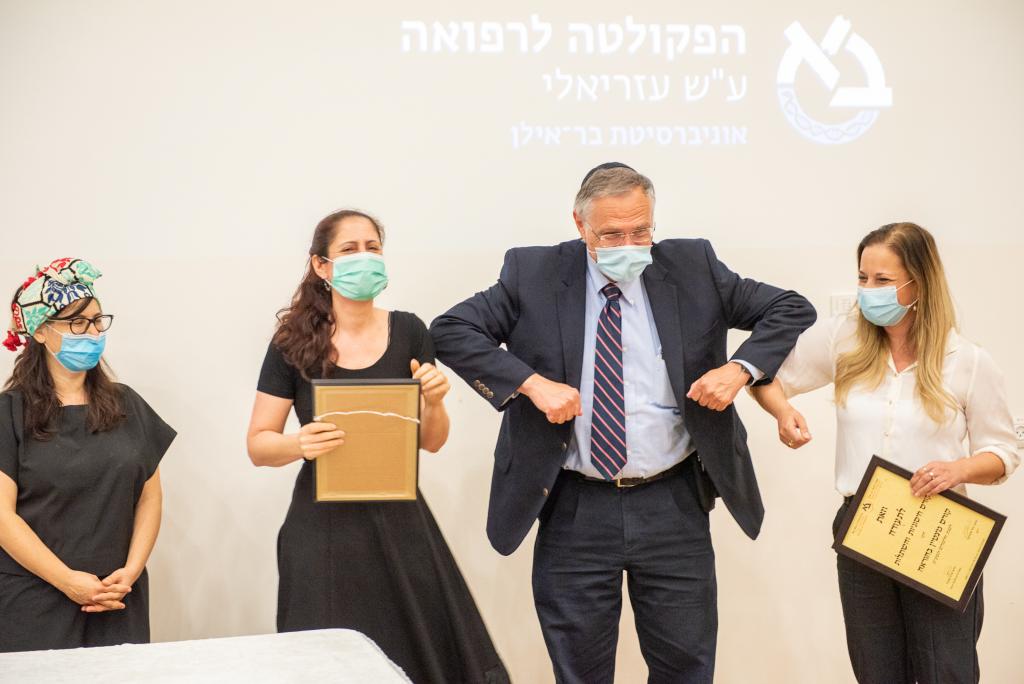 After two recent ceremonies via the Zoom platform (here and here), the Azrieli Faculty of Medicine was able to arrange another award ceremony, this time in person, to thank excellent Azrieli Faculty instructors. Keeping to required social distancing rules, and donning surgical masks, the participants convened on June 7, 2020 in the Esther & Haim Carasso Faculty Auditorium. The ceremony was also aired on YouTube live.
Chaired by the administrative head of faculty, Noam Reshelbach, the first to approach the podium was Dean Carl Skorecki. Excited this time to be speaking "live," Prof. Skorecki tied in education to the book of Ruth, recently read during the holiday of Shavuot. He pointed out the lesson we learned from Covid-19 about the importance of rigorous science, that learning must also have a research component.
Prof. Eric Shinwell, associate dean for medical education, pointed out that the awards are actually based on last year's surveys and expressed his hope that next year we will not be hampered by Covid-19 and will be able to "catch up"! He applauded teachers and students alike for being able to think on their toes and do an almost immediate paradigm shift in terms of teaching, with the new restrictions. Excellence, he said, is being able to lead and adapt in emergency situations.
Dr. Meital Gal-Tanamy who heads the advanced degree program, quoted from William Yeats. She then brought up a Rashi commentary on the weekly portion, Beha'alotcha, regarding lighting fire - in the weekly reading, the actual torch, and in education, the fire of enthusiasm. In both cases, the process must be carefully watched by the leader, to make sure the fire has effectively spread, and only then should s/he step back. She then read complimentary student comments, and thanked all.
Dr. Nomy Dickman, head of the educational evaluation and advancement unit, pointed out the symbiotic relationship between teaching, learning, and evaluating. She pointed out that the ceremony is a highlight of Faculty activity.
A third year medical student performed pieces by Chopin and Liszt, then each award recipient was called by name to receive his/her certificate of appreciation.
For excellent teaching, advanced degree courses:
Dr. Evan Elliot 
Dr. Itay Onn
Dr. Keren Agay-Shay
Dr. Moshe Dessau
For excellent teaching, pre-clinical four-year track courses:
Dr. Orly Avni
Dr. Jumanh Essa Hadad
Dr. Meital Gal-Tanamy
Dr. Sivan Spitzer-Shohat
Dr. Alon Barash
For excellence as pre-clinical course coordinators:
Dr. Moshe Dessau and Dr. Sergio Zvalb
Dr. Orly Avni and Dr. Meital Gal-Tanamy
Pictures can be seen here.