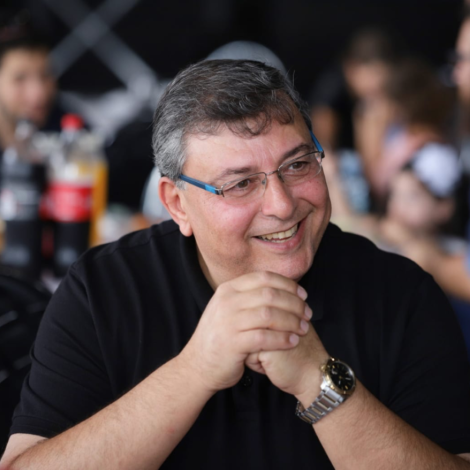 Vice Dean, Clinical Education
Prof. Johnny Younis
Vice Dean, Clinical Education
Email
jyounis@tsmc.gov.il
Hospital
Tzafon Medical Center in Poria
Department
Obstetrics & Gynecology
CV

CV

Johnny Younis was born and raised in Nazareth and graduated from high school in the city. He completed his medical studies at the Hebrew University School of Medicine and Hadassah Medical Center in Jerusalem in 1984. He completed his specialization in Obstetrics and Gynecology at Hadassah Ein Kerem Medical Center and sub-specialty in Reproductive Medicine and in-vitro Fertilization. In the early 1990s, he returned to the north, to the city of Nazareth, and later joined the Department of Obstetrics and Gynecology at the Poria Medical Center. He had a senior role in establishing the first IVF unit in Israel's periphery, which he manages to this day. From 2002-2011, he was a senior lecturer in the Technion's Faculty of Medicine. Prof. Younis joined the Faculty of Medicine in the Galilee upon its establishment in 2011 and later received his academic degree as a Clinical Associate Professor; today he is a Full Clinical Professor in Bar-Ilan University. Prof. Younis served as the faculty's first chair of the Obstetrics and Gynecology Circle from 2011-2017, and later Chair of the Admissions Committee from 2017-2018. In October 2018, he was appointed Vice-Dean for Clinical Education.

Prof. Younis has also served in a number of public positions within the Israeli Association of Obstetrics and Gynecology, the Scientific Council of the Medical Association of Israel, and several committees of the Ministry of Health. From 2010-2013, he served as the treasurer of the Israeli Society for Fertility Research, from 2001-2011, was a member of the Examinations Committee (Stage 1 and Stage 2) of Obstetrics and Gynecology, and from 2011-2018, was Chair of the Obstetrics and Gynecology Examinations Committee on behalf of the Scientific Council and Ob. Gyn. Association.

Prof. Younis is very active in research in the field of Reproductive Medicine and in vitro Fertilization. Most of his research work focuses on the pathophysiology of early ovarian aging, biomarkers of ovarian reserve, controlled ovulation, and thrombophila. Students from the Faculty of Medicine in Galilee as from other medical faculties in Israel completed their MD thesis under his guidance. Prof. Younis has over 100 publications in leading medical journals in the field.
Research

Research

 

The Mechanisms of Ovarian Aging

Johnny S. Younis, BMSc, MD

Assisted Reproductive Medicine Unit, Department of Obstetrics and Gynecology, Poriya Medical Center, Tiberias and Faculty of Medicine, Galilee, Bar-Ilan University.

 

Aim: To study the mechanisms of ovarian aging in infertile women undergoing assisted reproductive technologies (ART) treatment.

Background: Ovarian aging is a continuous process governed by a gradual decrease in the quantity and quality of the oocytes, contained within the ovarian follicles, starting in-utero and extending through the menopausal transition. Commonly, woman's fecundity begins gradually decreasing at about age 31 and around 37-38 years of age a significant decline in fertility begins. Nevertheless, there is a wide variability in the ovarian follicle pool reserve among women of the same age group with a distribution range of almost twenty years. A significant part of women in the reproductive age will exhibit follicular apoptosis, depletion of ovarian reserve and a significant decline in fertility at a much earlier age. In the last few decades pregnancy is being intentionally delayed and ovarian aging has become a major detrimental factor of pregnancy achievement and maintenance. Moreover, it is now clear that ovarian aging is closely related to other issues of women's health. In general, the exact mechanisms that dictate ovarian aging are still not identified. Yet, many risk factors have been established including medical, lifestyle, autoimmune, genetic and idiopathic. Our group has been engaged in the clinical investigation of this enigmatic topic in the last fifteen years and this will be presented during the talk.

Materials and Methods: The ART setting is an optimal tool for infertility treatment as well as ovarian aging investigation. A significant part of infertile women in need of ART treatment, whatever the basic etiology of their infertility, do show clear manifestations of reduced ovarian reserve and ovarian aging. Well designed prospective controlled targeted studies may uncover whether the patho-physiology underlying ovarian aging is related to one of the three suggested theories; possible differences in germ cell formation during fetal life, changes in the quality of the granulosa cells surrounding the oocyte or accumulated damage to the oocytes during female childhood and reproductive life. This may be accomplished by meticulous studying of the environment surrounding or within the follicle, including serum, follicular fluid and granulosa cells evaluation during ART treatment. Several investigational approaches could be employed including endocrine and growth factors evaluation, insulin/IGF-1 signaling, environmental stress, oxidative free radicals or apoptosis markers analyzing as well as luteinized granulosa cells extended culture assessment.

Significance: Ovarian aging studying in an ART setting may uncover novel mechanisms of its development. As well, it may assist to design improved treatment methods for these patients related to infertility or other issues of women's health.
Last Updated Date : 10/01/2023