Masters Degree Commencement Exercises Held at Azrieli Faculty of Medicine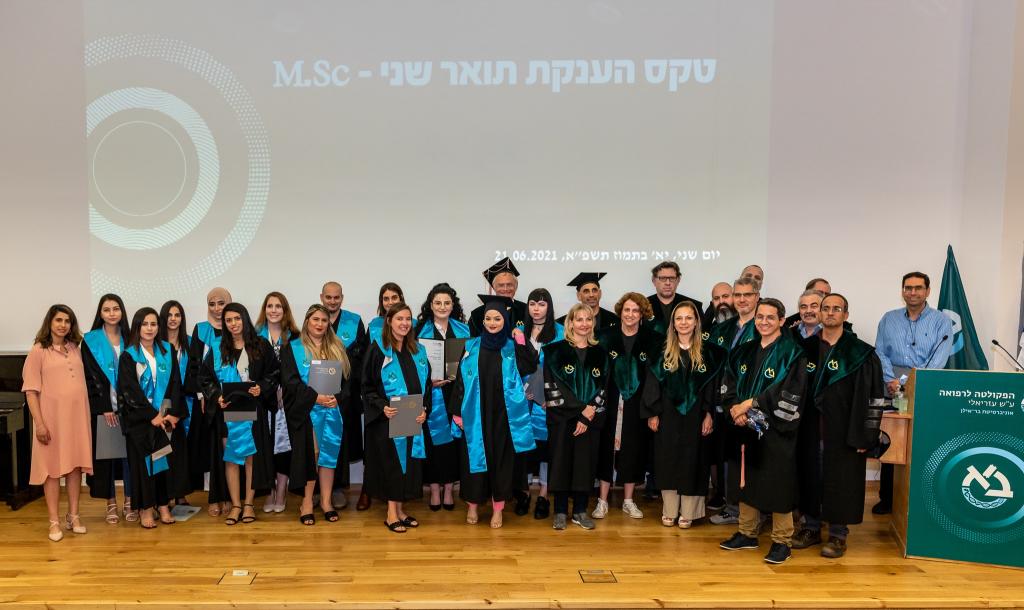 Congratulations to the 18 masters degree students who received their diplomas in person, at the Azrieli Faculty of Medicine, Esther & Haim Carasso Auditorium on June 21, 2021. This was the 5th such ceremony, with last year's being held via Zoom due to the COVID-19 pandemic.
After a procession of the proud participants, Prof. Karl Skorecki, Dean; Prof. Tzipora C. Falik-Zaccai, Vice Dean, Medical Research; and Dr. Meital Gal-Tanamy spoke briefly, applauding the students' growth as scientists and researchers. The event included a musical interlude, a video on the positive influence the Faculty has had on the North of Israel, a short scientific presentation by Dr. Evan Elliott, and a few words by a student representative who will be continuing to doctoral studies. 
Following are the names of the hard-working students who were awarded Masters Degrees. Advisor names are in parentheses:
Elias Maria (Prof. Itay Onn)
Ashtamker Lital (Dr. Avi Peretz)
Benkovitz Elisheva* (Prof. Itay Onn)
Gani Samar (Dr. Nir Qvit)
Volodko Olga (Prof. Offer Amir)
Vasserman Nili (Prof. David Karasik)
Khoury Hiba (Prof. Shaul Atar)
Hanout Wessal (Dr. Nir Qvit)
Tarif Hala (Prof. Omry Koren)
Lerner Yana  (Dr. Nir Qvit)
Majdob Rawan (Prof. Andrei Braester)
Meary Diana* (Dr. Meir Shamay)
Moadi Lelyan* (Prof. Omry Koren)
Naseraldeen Naseba (Prof. Andrei Braester)
Naama Maria (Dr. Shai Bel)
Saleh Bisan (Dr. Abraham Samson, Dr. Hava Gil Henn)
Kirtadze Elena (Prof. Tzipora Falik-Zaccai)
Rubin Elad (Prof. Omry Koren)
* With honors
[Photo credit: Dror Miller]
Last Updated Date : 28/06/2021