The Return of the Teddy Bear Hospital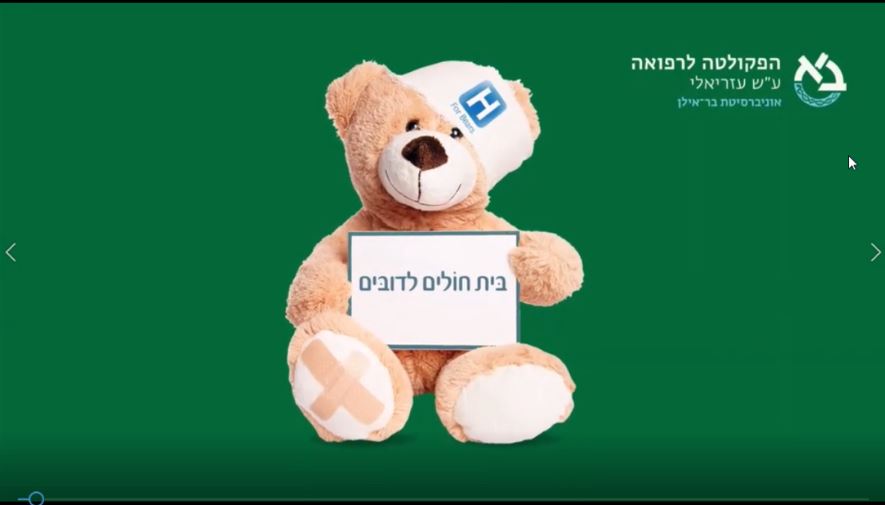 Does your Teddy Bear have a tummy ache? Has your doll broken its arm? Afraid your Raggedy Ann caught Corona? All these scenarios and more were addressed at the Azrieli Faculty of Medicine annual Teddy Bear Hospital.
After a break last year due to Corona, this year, again thanks to the warm support and generosity of Freddy Zinger, the Teddy Bear Hospital has returned, this time via Zoom.
On the afternoon of May 3, 2021, over 500 pre-registered youngsters accompanied by their parents were greeted online by a staff of over 30 first and second year medical school students led by Amit Gabbai who did their best to expose the children to typical medical scenarios in orthopedics, emergency medicine, radiology, surgery, cardiology, ophthamology and ENT, as well as dentistry - via their stuffed animals.
After short pre-recorded videos introducing the viewers to the above departments, break away rooms were opened to "treat" the dolls in real time. Medical students interacted with their charges via Zoom, instructing them how, for example, to make a cast for their Teddy Bear's broken leg. In this way, the children (and their parents!) were exposed to typical medical conditions they might encounter one day, with the hopes of allaying their fears or anxiety related to medical care. The session ended with a pre-recorded song and dance about nutrition.
The children also learned how to check pulse and blood pressure, and were taught all about vaccines, blood tests, hygiene, and what to expect in the emergency room.
The Dean of the Faculty, Prof. Karl Skorecki, brought his favorite doll, Chickie the chicken, who didn't feel well, for treatment.
Children actively participated in the activity, asked excellent questions, and shared their personal experiences about health care.
We hope to see you next year! Meanwhile, you can view a few videos (in Hebrew - but you'll get the idea!) here, here, here, and here.
Pictures of the event can be seen here.

Last Updated Date : 04/05/2021