Dean of Faculty Visits Medical Students Assisting in Clinics in North: Russell Berrie Foundation Grant Making a Difference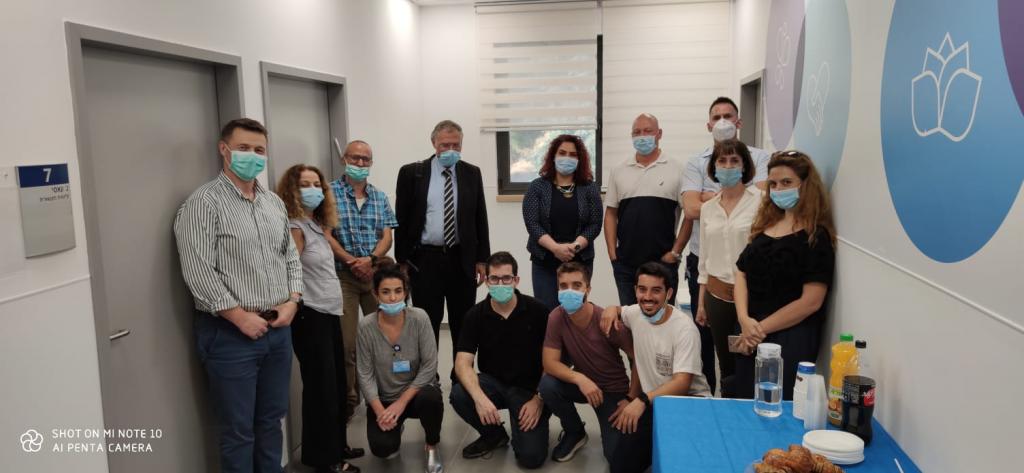 As a follow up to our previous item, "Russell Berrie Foundation Supports Azrieli Students in the Fight Against Corona,", on June 16, 2020, Prof. Karl Skorecki, Dean of the Azrieli Faculty of Medicine; Dr. Lilach Malatskey, Vice Dean for Community Education; and Dr. Sivan Spitzer-Shohat, Head of Population Health Education and lead on this project, visited our students at work at the clinics in the North. By way of reminder, almost as soon as we realized that Covid-19 had become the new reality, the Faculty approached The Russell Berrie Foundation which immediately stepped to the plate, funding a project to send Azrieli Faculty medical students to the field to assist medical professionals in community clinics.
Deluged with work – dealing with longstanding chronic issues as well as new Covid-19-related concerns and emergencies – the local medical establishment was hard pressed to keep pace with the growing demand of the local population. The students filled an important void (and gained invaluable experience on the way!) and we would like to share some of their sentiments:
"Every medical student should do this project…you learn first hand what is needed in the field. We have never had such an opportunity." (Dudi, third year medical student, Clalit Health Services Northern Region, Safed clinic)
"In my opinion, this project should be part of the medical training program. The activity at the clinic awarded me the opportunity to see the entire process, even before one gets to the hospital. I better understand the community, something that was lacking before the project…. Explaining to and negotiation with the patient is very challenging. They are not always interested, and don't understand what you want from them.  This was my first experience trying to understand how to deal with this." (David, third year medical student, Maccabi Health Care Northern Region, Kiryat Shemona clinic)
"Thanks to this opportunity, I was able to discover the difference between what the patient is requesting, and what s/he really needs, based on their medical background. We can then prevent a deterioration in their medical condition…I feel that my ability to talk to patients and convince those who do not care about their medical condition has improved. I have discovered barriers that I never understood. For example, it never dawned on me that the cost of medication would prevent patients from taking care of themselves, but I discovered this in discussions that came up at the clinic." (Yossi, fourth year medical student Maccabi Health Care Northern Region, Tiberias clinic)
"We can help patients who are unaware of their condition. I feel like I am making a difference. I explain what symptoms mean, things they previously did not understand….This is one advantage of Family Medicine; there is a long-term relationship (as opposed to that at hospitals, for example, dealing with acute immediate needs). I feel the difference, that at the clinic, the patients really appreciate and thank you." (Shawn, third year medical student, Maccabi Health Care Northern Region, Safed clinic)
We salute all health care workers and wish everyone good health.