Associate Dean, Medical Education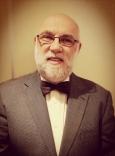 Bar-Ilan Email
eric.shinwell@biu.ac.il
Hospital
Ziv Medical Center (Rebecca Sieff Hospital), Safed
CV

CV

Eric Shinwell is Director of Neonatology at Ziv Medical Center, Safed and Associate Dean of Medical Education at the Azrieli Faculty of Medicine, Bar-Ilan University, Israel.  He is currently leading major innovations in curriculum development and teaching methods that include interactive learning, inter-professional education, online courses and expanded teaching of medical humanities at all stages of the curriculum.

Originally from Scotland and trained at King's College Hospital as well as the University of Rochester in New York, Prof. Shinwell is a recognized researcher who for more than two decades has mainly focused on the pathophysiology and management of Bronchopulmonary Dysplasia, the severe chronic lung disease of preterm infants.  In addition, he has published studies on ethical issues in neonatal care.  He has published over 150 peer-reviewed articles, together with numerous chapters, reviews and other articles.
Publications

Publications

Shinwell ES, Portnov I, Meerpohl JJ, Karen T, Bassler D. Inhaled Corticosteroids for Bronchopulmonary Dysplasia: A Meta-analysis. Pediatrics. 2016 Dec;138(6).

Hershkovich-Shporen C, Bardenstein R, Blickstein I, Shinwell ES, Flidel-Rimon O. Maternal intrapartum antibiotic treatment continues to exert a bactericidal effect on the umbilical cord and peripheral venous blood of newborn infants. Acta Paediatr. 2017;106(11):1767-1771

Cucuy M, Juster-Reicher A, Flidel O, Shinwell E. Correlation between transcutaneous and serum bilirubin in preterm infants before, during, and after phototherapy. J Matern Fetal Neonatal Med. 2017;24:1-4.

Bassler D, Shinwell ES, Hallman M, Jarreau P-H, Plavka R, Carnielli V, Meisner C, Engel C, Koch A, Kreutzer K, van den Anker JN, Schwab M, Halliday HL, Poets CF, for the Neonatal European Study of Inhaled Steroids Trial Group. Long-Term Effects of Inhaled Budesonide for Bronchopulmonary Dysplasia. New Engl J Med 2018;378(2):148-157

Shinwell ES. Are inhaled steroids safe and effective for prevention or treatment of bronchopulmonary dysplasia? (includes new meta-analysis) Acta Paediatr. 2018 Apr;107(4):554-556.