Graduate Degrees (M.Sc. and PhD) in BioMedical and Health Sciences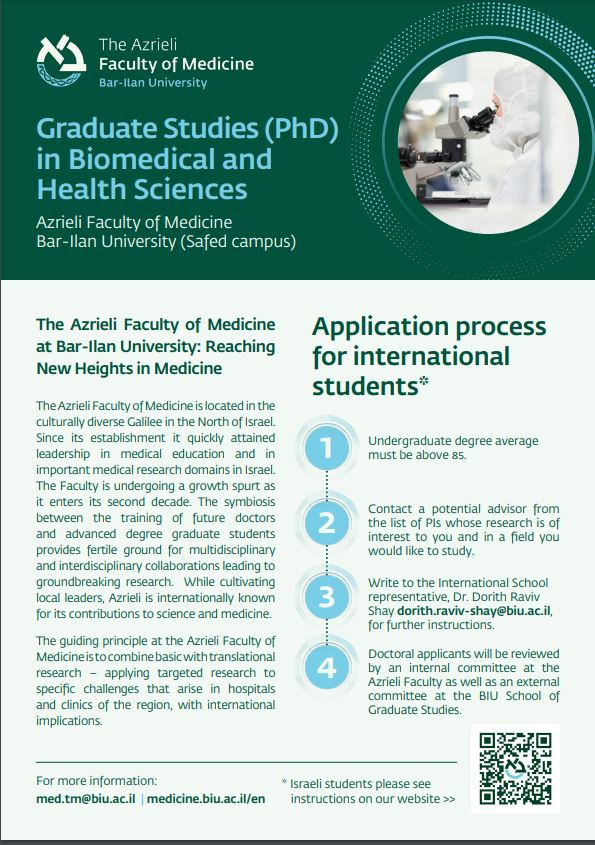 Click on the above for full flyer with researcher details.
For Hebrew see here  /  לעברית, לחץ כאן
Graduate studies take place at the Azrieli Faculty of Medicine in the Galilee, located in Safed. Research is carried out at the research laboratories of the Faculty or those of the hospitals affiliated with the Faculty of Medicine.
The curriculum for graduate studies consists of research work and of courses that students must attend. The research subject of each student is determined in consultation with the advisor. The guiding principle of the Faculty of Medicine at Bar-Ilan University is translational research.
The following research areas are available at the Faculty: 
Biochemistry 
Cancer research 
Bioenergetics 
Metabolism 
Pharmacology
Medical microbiology
Virology 
Genetics 
Bioinformatics
Neurobiology 
Anatomy 
Morphology
Developmental biology 
Immunology 
Microbiology 
Structural biology 
Cell biology 
Healthcare 
Medical ethics
Medical sociology and anthropology
Behavioral science
Neuroscience
Epidemiology
For more information regarding graduate degree options at the Faculty, please contact Ms. Hadas Hasidim, coordinator of graduate studies, by email med.tm@biu.ac.il