Certificates of Appreciation Awarded to Clinical Instructors, Medical Centers in Nazareth and the North, June 18, 2020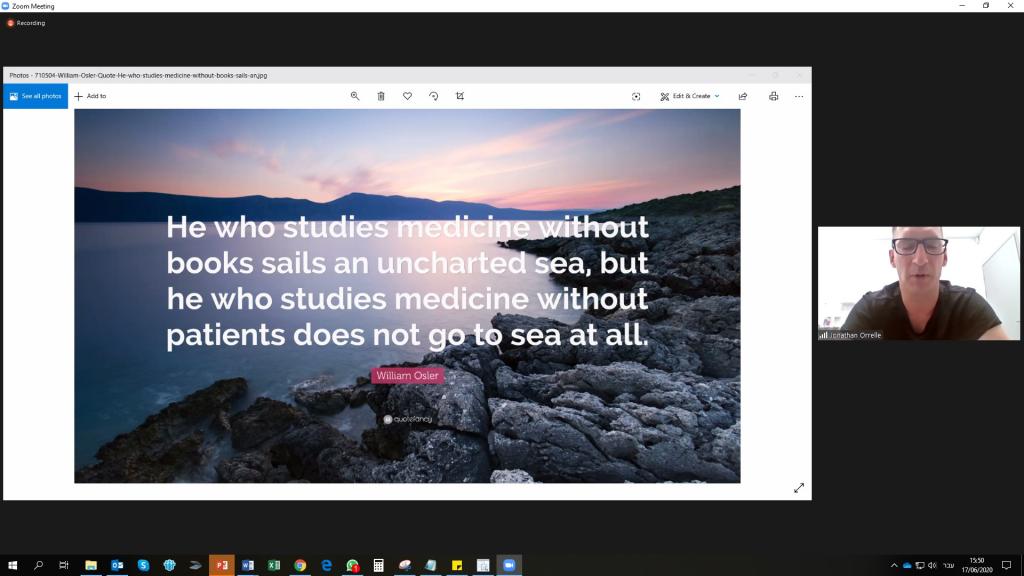 Two impressive and well-planned online Zoom ceremonies were again held, on June 18, 2020, to thank excellent clinical instructors and award them certificates of appreciation. This follows ceremonies previously held honoring instructors at the Ziv Medical Center in Safed, the Baruch Padeh Medical Center in Poria, and the Azrieli Faculty (for pre-clinical instruction). The awards were based on student survey feedback under the direction of Dr. Nomy Dickman, Head of Unit, Evaluation and Advancement of Education.
Moderated by Mr. Noam David Reshelbach, the administrative head of the Faculty, senior management offered a few words. The following institutions were represented:
Kupat Holim Clalit (North)

Kupat Holim Maccabi (North)

Kupat Holim Leumit (North)

Mazor (Mazra) Mental Health Center (Acco)

Lady Davis Carmel Medical Center (Haifa)

The Medical Corps of the IDF

Emek Medical Center (Afula)

Galilee Medical Center (Naharia)

EMMS (Scottish) Hospital (Nazareth)

Holy Family Hospital (Italian) (Nazareth)

French Hospital (Nazareth)
Prof. Karl Skorecki, Dean of the Faculty, mentioned that he visited students at work in the community, and how critical and appreciated community medicine is. He quoted one of the students as saying, "Here we do REAL medicine! I learn but also influence." – and that the Faculty relies on – and is grateful for – the  physicians in the field to teach, train, and above all, mentor the students. He also warmly thanked the institutions that are not affiliated with the Faculty but that accept and train medical students as part of their family. He also offered a personal anecdote, that the first Israeli city he was exposed to was Nazareth, as a teen visiting Israel. He shared that there will always be a special place in his heart for Nazareth. He pointed out that one's religion is not what counts – that all religions have a mission to care for others, and that it is poignantly felt in the area hospitals. He also pointed out, with pride, that this is the first ceremony to include the IDF, represented by IDF Medical Chief Col. Elon Glassberg.
Prof. Eric Shinwell, Associate Dean for Medical Education, again pointed out how impressed he was with how quickly the medical establishments thought on their feet as soon as the Coronavirus erupted. He applauded everyone's ability to think out of the box. He expressed his sincere hope that the State of Israel will find a way to increase the number of desperately needed doctors in the country.
Dr. Ziv Rosenbaum, of the Emek Medical Center, said that health and education are crucial for a functioning democracy. He shared that coming from the Center, he was impressed with the special human touch prevalent in the North.
Dr. Fahed Hakim of EMMS shared warmly how important the students are to his hospital, that they are the future. He expressed his hopes that they will remain in the North after their training to continue contributing.
Dr. Ibrahim Harbaji of the Holy Family Hospital said how proud he is of his doctors, that the challenge of teaching should not be taken for granted. His hospital is a mosaic, he described, with the prevalent language spoken being Arabic, except for when students arrive, at which point all respectfully switch over to Hebrew. The bottom line, the common language, mentioned one of the award recipients, is giving.
Dr. Lilach Malatskey, Vice Dean Community Education, expressed her hopes that her vision will come true – that with the improvement of community medicine, not only will excellent doctors move to the North, but citizens too. Connecting is important, and she looks forward to re-connecting in person once Corona passes.
Dr. Tsofia Eilat-Tsanani, a specialist in Family Medicine, thanked all for their hard work, and stressed that family medicine calls for personal accompaniment.
Dr. Nomy Dickman reiterated that this ceremony is a highlight of all of the Faculty's efforts, proving yet again how teaching, learning, and evaluation go hand in hand. Instructors do not merely pass on information; they are mentors. And the best type of learning is active learning.
Dr. Jonathan Orrelle who represented the award recipients, brought in a quote from Sir William Oster that sums it all up: "He who studies medicine without books sails an uncharted sea, but he who studies medicine without patients does not go to sea at all."
Congratulations to all, and we look forward to meeting next year in person!
Pictures can be seen here.