Certificates of Appreciation Awarded to Clinical Instructors, Ziv Medical Center in Safed, June 3, 2020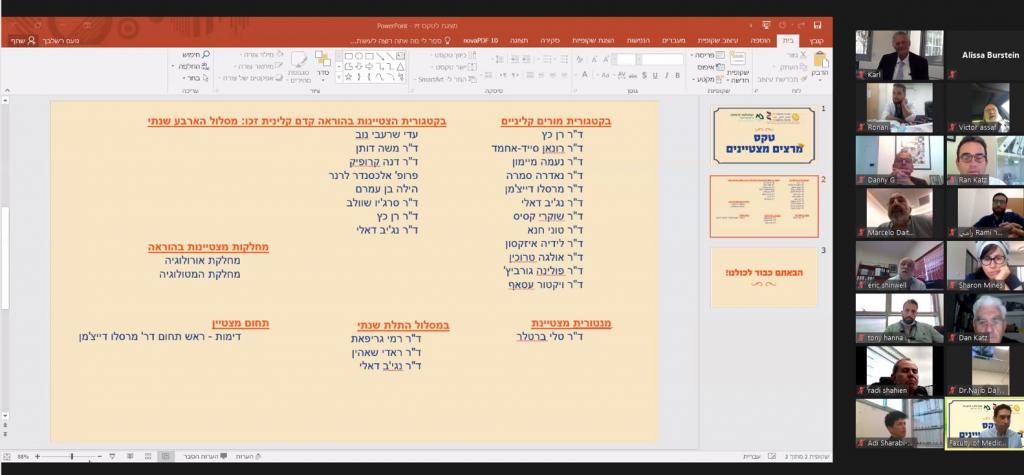 A ceremony for outstanding instructors was held for the first time via Zoom, due to Coronavirus restrictions. Mr. Noam Reshelbach, the administrative head of the faculty, chaired the event and called speakers to the Zoom-podium: 
Prof. Karl Skorecki, Dean, stressed that although we are called a Faculty of Medicine, we are actually a "School" of medicine, with the value of education at the helm. Quoting from the scriptures and Talmud. he pointed out that in the Jewish tradition, teachers are held with the highest regard, and are also considered the parents of those whom they mentor. He also mentioned the importance of educators teaching by example.
Prof. Eric Shinwell, Associate Dean for Medical Education, pointed out the challenges that the Faculty faced since the outbreak of Corona, most especially in the realm of teaching - and how everyone pulled through with flying colors. Pre-clinical studies switched over to the Zoom platform in one day, and clinical studies quickly found viable solutions, so as not to lose valuable time and continuity.
Dr. Nomy Dickman, Head of Unit, Evaluation and Advancement of Education, pointed out that this is a climactic moment, showing how the teacher-student relationship is symbiotic, that both sides learn and benefit from one another.
Dr. Salman Zarka, director of the Ziv Medical Center and close colleague at the Faculty shared his blessings, stressing the word "excellence." He mentioned that recipients of this honor will receive a special ribbon to be worn on their uniforms while working at the hospital, and that they can and should be proud of their achievements.
All names were called out individually (see picture attached, in Hebrew) then Dr. Ron Katz of Ziv, one of the recipients, spoke briefly about his enthusiasm to teach, and how teaching is not just a profession but a way of life.