It's a Joint Effort: Academia, HMOs, Community, and Donors Fighting the Coronavirus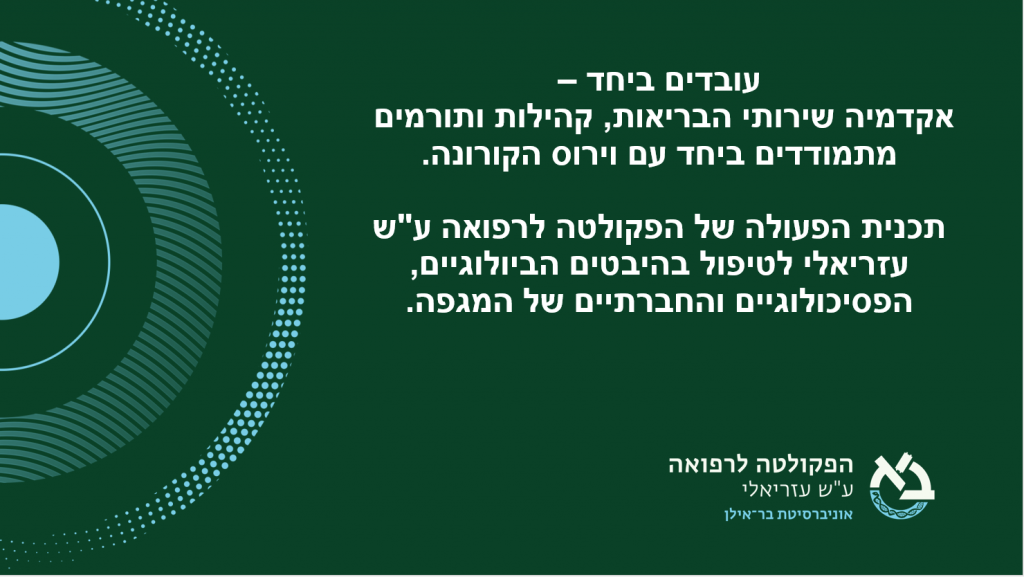 The novel coronavirus, Covid-19, has taken us all by surprise and is challenging health systems worldwide. It is also showing us how population groups are being affected differently. The Galilee region in Israel exemplifies this most poignantly. The diversity of vast ethnic and religious as well as socioeconomic backgrounds, coupled with limited accessibility to medical services and advanced medical care, and a high rate of chronic illness – is proving particularly challenging for caregivers.
Bar-Ilan University's Azrieli Faculty of Medicine has joined together with its partners, affiliate hospitals, community clinics, NGOs, foundations and donors to build a new platform to rise to the challenge.
Prof. Karl Skorecki, Dean of the faculty, explains: "As a Faculty whose mission is to train excellent doctors, who are dedicated to their community, we have built a three-tiered approach that will answer not only to the current urgent needs, but will build and strengthen the structure for our activity in the Galilee."
A result of roundtable discussions, this platform has begun, led by students and faculty alike.
The biological aspect – Supporting and improving the ability of the authorities in the area to do testing
The psychosocial aspect – Students from the Faculty supporting NGOs with follow up on chronic patients in order to minimize physical and emotional decline resulting from lack of control. This will continue even after the epidemic.
In addition, the Faculty is improving the medical infrastructure by placing ultrasound stations, and training additional clinical staff in the affiliated hospitals and community health centers. The staff will be trained in the operation of the instruments, analyzing the patient's status, and referring them to the hospital if and as needed. The staff will continue even after the pandemic, incorporating all they have learned for ongoing patient care.
This win-win situation serves to advance the health of the patient and the education of the medical students.