Northern Stars - Apply Now!
Northern Stars 2021
Under the Auspices of Mifal Hapayis
Is Here
This is your opportunity to join a cadre of the best and the brightest Family Medicine residents in the Galilee
Dear Students,
Have you ever thought about making a change in Family Medicine in the north of Israel?
Introducing a prestigious residency under the auspices of Mifal Hapayis and the Azrieli Faculty of Medicine that will lead to an important transformation in Community Medicine in the north.
Eligibility:
Outstanding graduates who would like to incorporate research/learning in their residency.
Program highlights:
Research – Includes research project under the supervision of a Faculty mentor and Masters degree in health sciences, management or public health.
Hishtalmut – In-service training in Family Medicine.
Grants – Living expenses supported by Mifal Hapayis.
Teaching/Academia – for those eligible.
Personal mentor – in Family Medicine for all participants.
Relocation assistance – For housing and absorption in local, warm, yishuvim.
For more information, see here (in Hebrew) or contact Dr. Lilach Malatskey, Vice Dean Community Clinical Education and Northern Stars coordinator.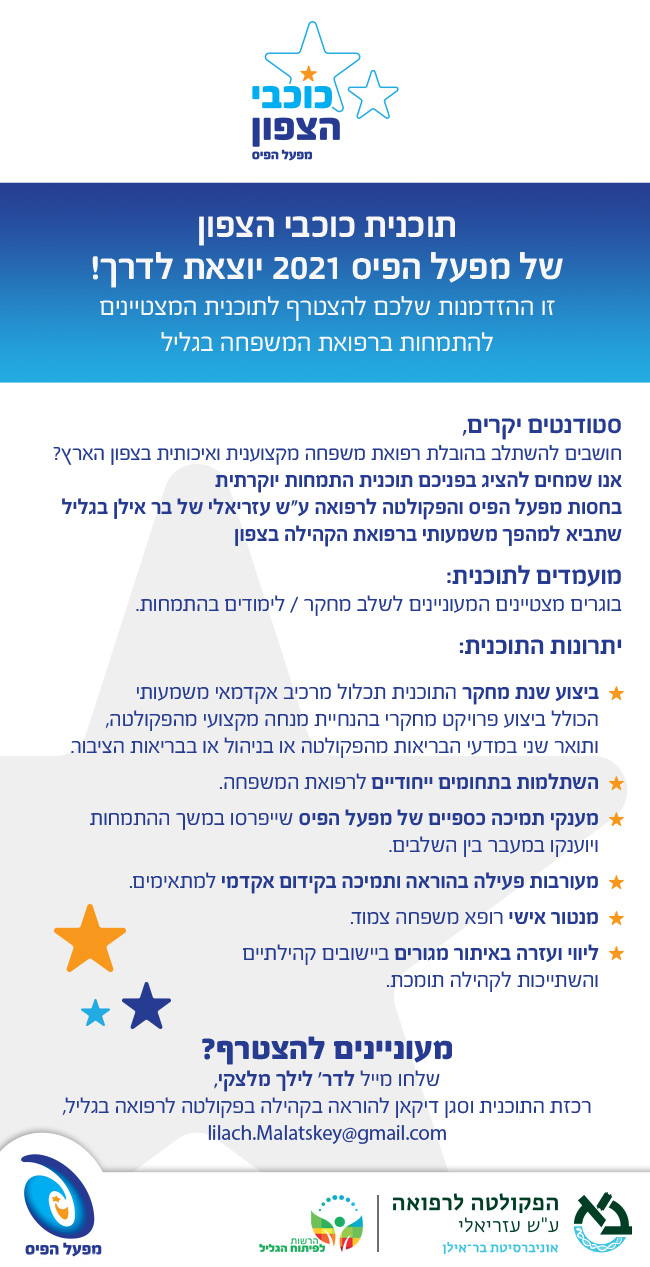 Last Updated Date : 30/12/2020